Greave House Farm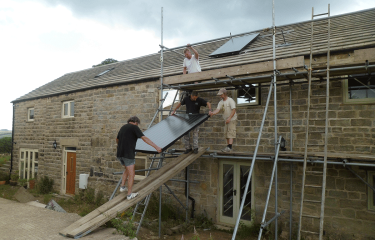 Energy-saving improvements
Location
The Old Dairy, Greave House Farm
Stocksbridge
Sheffield
S36 4GH
Opening times
12 Apr - 18 May 2014
Open 10am - 3pm on Sat 10th Oct - please book to say you are coming and we may contact you to check your preferred tour time.
This event has now finished.
Book ahead https://www.eventbrite.co.uk/e/greave-house-farm-green-homes-sheffield-tickets-18568978314
The barn dates from the 1700s. The old dairy and milking parlour have been converted. This has included underfloor and ceiling insulation, additional roof insulation and wall insulation. The upgrades have also included double/triple glazing, an air source heat pump and recycled wood all over.

Bus information: Bus to Stocksbridge leisure centre (57) from outside Argos in town. 10 min walk behind centre and up through park.
Tram and supertramlink bus to Cedar Road Stocksbridge - half mile walk or owner can pick up.
Additional information
Location
The Old Dairy, Greave House Farm
Stocksbridge
Sheffield
S36 4GH
Opening times
This event has now finished.
Other homes nearby