21 Eastgrove Road open Sat 16th May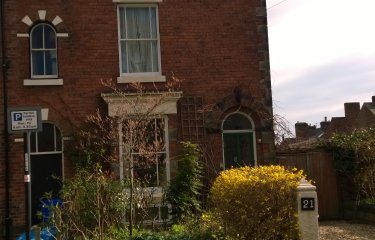 Energy-saving improvements
Low-cost improvements

'Big' insulation works

Glazing

Renewables: heat

Renewables: electricity

Recommended
Location
21 Eastgrove Road
Sheffield
S10 2NN
Opening times
16 May 2015
Tour at 4pm - please book using the link. See also other homes around Ecclesall Rd open on the same day.
This event has now finished.
Book ahead at https://www.eventbrite.co.uk/e/21-eastgrove-road-green-homes-sheffield-tickets-16794512840
The main features in this 1870's house are:-
A double glazed conservatory on the South side generating heat which is convected through the house even on quite dull days.
Solar water heating
Solar panel electricity generating and control system
Double glazing of large Victorian sash windows and other windows.
Re-slated roof insulated by patented adhesive foam system.
Renewal of loose front door anchorage and seals making it really airtight
The householder has been a pioneer of renewable energy, and has created a wonderful living space that takes advantage of free heat from the sun.
Additional information
Location
21 Eastgrove Road
Sheffield
S10 2NN
Opening times
This event has now finished.
Other homes nearby

76 Southgrove Road open Sat 16th May





0.0 miles









0.5 miles






0.8 miles